By now I'm sure you understand why golfers wear gloves, but when trying to figure out which golf glove to buy, it is important to understand that there are not only different designs, but different materials as well.
What material are golf gloves made of?  Golf gloves are typically made from 3 types of leathers, cabretta leather, synthetic leather, and a hybrid of the two.
Each golf glove material has their own pros and cons. While there is no best golf glove material, any of these gloves will be great depending on what you may be looking for in a glove.
Leather Gloves
Leather is the most common material used for golf gloves. Not only is leather the most common, but is the best feeling of the three. Leather golf gloves are made out of cabretta leather, which is a  high quality leather that is also found in baseball gloves.  Cabretta leather golf gloves are  typically very comfortable, and designed with a tight fit for maximum grip. While leather gloves offer a tight fit, they are also very breathable.
One of the downfalls of leather gloves however is the fact that they tend to wear out the fastest. This means that they need to be replaced more frequently than synthetic or hybrid gloves.  More often than not, you can get leather gloves in packs of 3 or 4 with very good prices.
Overall, if you are alright with a nice tight fitting glove that you may need to replace a few times during the season (depending on use), then leather gloves are the way to go.  Not only do they have a nice tight feel, but are highly breathable, leaving your hand comfortable all round.
Synthetic Gloves
Compared to leather, synthetic material gloves offer much better flexibility, and some will argue, feel better.  In addition, synthetic gloves are much more durable and still look like real leather gloves due to the synthetic leather construction.  Despite being the most durable and longer lasting, synthetic gloves are not as breathable as traditional leather gloves.
Synthetic leather golf gloves tend to be less expensive, so because of this and the fact they last longer than standard leather, they are a great value.
If you are looking for a golf glove that will be long lasting and durable, then synthetic leather gloves are a great option.  While they my not be as comfortable as standard cabretta leather gloves, they will cost less and not wear out nearly as quick.
Hybrid Gloves
In terms of comfort and durability, hybrid gloves offer players the best of both worlds .  Hybrid gloves are made from both synthetic and cabretta leather.  Leather is typically used on the palm and fingers, while synthetic is in the joints and common wear areas.  The leather is used to promote a better club grip, and synthetic leather is used on the joints and common wear points.
This combination was designed to integrate both comfort and durability.  More and more players are adopting hybrid gloves because they offer a great feel while maintaining the durability they desire.
Looking for a glove that offers great all around feel and durability? Then a hybrid glove might be your go to.  Hybrids offer players the comfort and feel of a cabretta glove while maintaining the durability of a synthetic glove.  Hybrids are also a value at a great price point.
Which Golf Glove Is Best For Me?
Figuring out how to choose a golf glove is a common concern among golfers looking for their first glove.  The best way to determine which glove is best is to simply try them all out. You will be able see what you like the feel and grip of most.  As stated, each glove type offers players with various benefits in terms of comfort, feel, grip and durability.
If you are looking for your new favorite golf glove, check out our best golf gloves guide!
Summary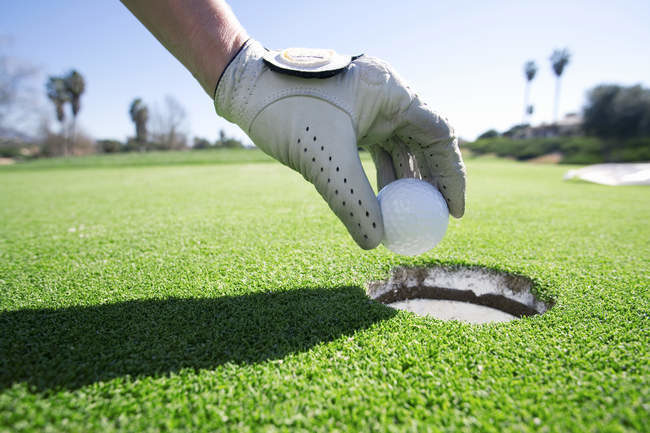 Article Name
Types of Golf Glove Materials
Description
Golf gloves are made of 3 different types of material leather, synthetic leather, and a hybrid mix. Learn about which material would be best for you.
Author
Publisher Name
Publisher Logo