If you're looking to raise the level of your game and become an excellent golfer, don't discount the importance of the equipment you use.
While many golfers like to focus on their clubs, bags, and footwear (all of which are incredibly important pieces of golf equipment), golf gloves are an often overlooked item that can make a small, but significant difference in your game.
There are a short assortment of golf gloves that are designed to address a variety of common problems that many golfer face. We've outlined several of the more common issues that people are looking to resolve when it comes to purchasing their gloves, and our top pick for each category. See our summary below of the best golf gloves of 2020.
| Glove | Best For | Material | Features | Price |
| --- | --- | --- | --- | --- |
| Zero Friction Compression Fit | Best Glove For Beginners | Synthetic Leather | Increased Breathability | Find The Lowest Price |
| Footjoy RainGrip | Best Glove For Sweaty Hands | QwikDry Knit | Wicks Away Moisture | Find The Lowest Price |
| Footjoy WinterSof | Best Glove For Cold Weather | QwikDry Knit & Weather-Shield Foam Fleece | Insulated & Waterproof | Find The Lowest Price |
| HJ Weather Ready Rain | Best Glove For Rain | Microfiber Suede & HexaGrip Silicone | Insulated, Waterproof, Increased Grip | Find The Lowest Price |
| Bionic RelaxGrip | Best Glove For Arthritis | Hybrid Leather | Increased Grip Without Needing To Grip Too Hard | Find The Lowest Price |
| Bionic StableGrip | Best Glove For Preventing Blisters | Cabretta Leather | Patented Pad Relief | Find The Lowest Price |
Best Golf Glove for Beginners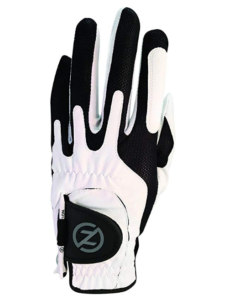 First on our list is the Zero Friction Compression-Fit golf glove. This brand is a good place for any golfer to start, specifically because it features a universal one size fit. This will help you get a good starting point of what kind of fit you like, what size you might be looking for, and discovering features that you may value above others.
These gloves are especially beneficial for golfers who cannot seem to find a glove that perfectly fits their hands. The gloves are adjustable and constructed entirely of synthetic material, complete with a palm patch for added durability, and a finger patch for added grip.
Golfers with extra-large hands should likely skip these gloves, however, since the strain on the fabric can cause them to break down quickly. Zero Friction gloves also host a large amount of breathability which will help your hands remain dry during hot, humid conditions. The glove also hosts a detachable tee and ball maker for an added level of convenience.
Find The Lowest Price On Zero Friction Compression Fit Gloves
Best Golf Glove for Sweaty Hands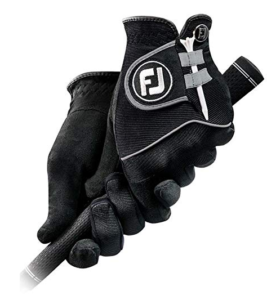 The new Footjoy RainGrip gloves are ranked as the best golf gloves out there for those who tend to struggle with sweaty hands in more humid climates. The QwikDry knit material they're constructed of is breathable and effectively wicks away moisture.
Many players report an improvement in their grip strength as well as a reduction in slipping due to excessive moisture in the summer months. They also provide a comfortable fit and are easy to clean and maintain, while also hosting a long shelf life that can last multiple season.
Golfers seem to like them so much that the gloves currently host a 75% positive review rating on Amazon. At a little under $30, the glove is a somewhat affordable option that can help deter your sweaty hands from ruining your game when the humidity kicks up.
Find The Lowest Price On Footjoy RainGrip Gloves
Best Golf Glove for Cold Weather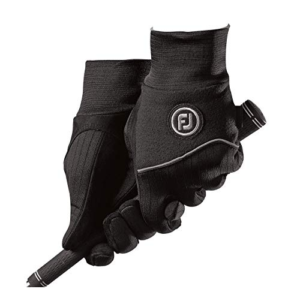 Footjoy once again comes in as one of the top reviewed gloves for their cold weather WinterSof golf gloves. If you're a golfer that doesn't let lower temperatures interrupt their game, then these gloves will keep your hands properly insulated and warm.
Footjoy's proven water resistant knit palm offers a soft feel and consistent fit that allows you to maintain a secure grip during cool weather conditions. The gloves also contain waterproof structured nylon and Footjoy's trademarked Weather-Shield foam fleece on the back of the glove in order to retain warmth and resist the cold.
The gloves are also non-binding and provide an extremely comfortable fit. While these golf gloves are designed to keep your hands warm during cold winter temperatures or windy conditions, many golfers keep them in their bag year round due to their provide quality. The WinterSof gloves are also fairly breathable, flexible, and long lasting, making them our choice for the best winter golf gloves for the colder weather season.
Find The Lowest Price On Footjoy WinterSof Gloves
Best Golf Glove for Rainy Weather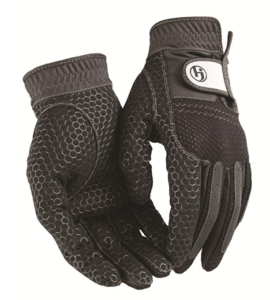 We all know that rain can arrive on the golf course at any point during the year and rapidly derail your game. Out of all of the elements, rain can wreak havoc on the course and cause massive divots, slippery grip, and overall poor conditions. A golfer needs a glove that's durable, ultra-resistant, and can hold up to the constant exposure to wet conditions.
HJ Weather's Ready Rain Golf Glove is one of our top options for combating heavy rain on the course. These are some of the best golf gloves for rain out there, with microfiber suede palms speckled with HexaGrip silicone in a honeycomb shape to make sure slippage is never an issue.
The WeatherTex mesh fabric that the gloves are made of not only keeps the inside well ventilated, but also enables it to dry rapidly after use, making them the perfect option for playing in wet conditions. It's important to note that some people have reported the grip to be stronger than average due to its design, so they may not be the best choice for an every day glove.
The additional insulation can also cause some sweating during more humid conditions, so it's ultimately up to your discretion when and where you would want to use the glove outside of the more wet conditions.
Find The Lowest Price On HJ Weather Ready Rain Gloves
Best Golf Glove for Arthritis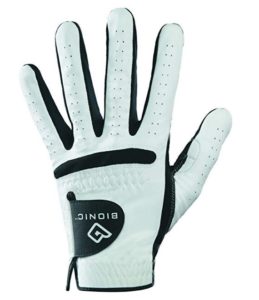 Our top pick for golf gloves for golfers with arthritic hands are the Bionic Men's RelaxGrip. The glove ccombines a leather palm with a synthetic back in order to provide a great feel with the club and increased durability.
Their double row finger grip system promotes a lighter, more stable grip that's designed to prevent you from gripping the club too strongly. Lycra motion and web zones gussets provide better range of motion and a more comfortable fit. This will assist you in implementing a relaxed, lighter grip.
These gloves also help to stop the formation of blisters and promote overall flexibility and breathability. The sizes tend to run small, but the gloves are affordable and some even claim that they are some of the most durable golf gloves out there.
Find The Lowest Price On Bionic RelaxGrip Gloves
Best Golf Glove for Preventing Blisters
The Bionic StableGrip Golf Glove is our best golf glove for preventing blisters, which should be a top consideration for every golfer. The patented anatomical pad relief system provides you with an excellent grip without strangling your club.
The entire design behind these gloves helps them to feel like a second skin, rather than a foreign entity as it conforms to the contours of your hand whether it is open or closed. The price is a bit higher than the average competitor, but reviewers swear by the performance improvements you get from using these gloves.
Find The Lowest Price On Bionic StableGrip Gloves
Conclusion:
No matter what type of golf glove you are looking for to help you improve your game, there are plenty of great options available on the market. Always make sure to do your research and find the best glove that solves the primary issue that's bothering you and that you ultimately feel most comfortable with.
Summary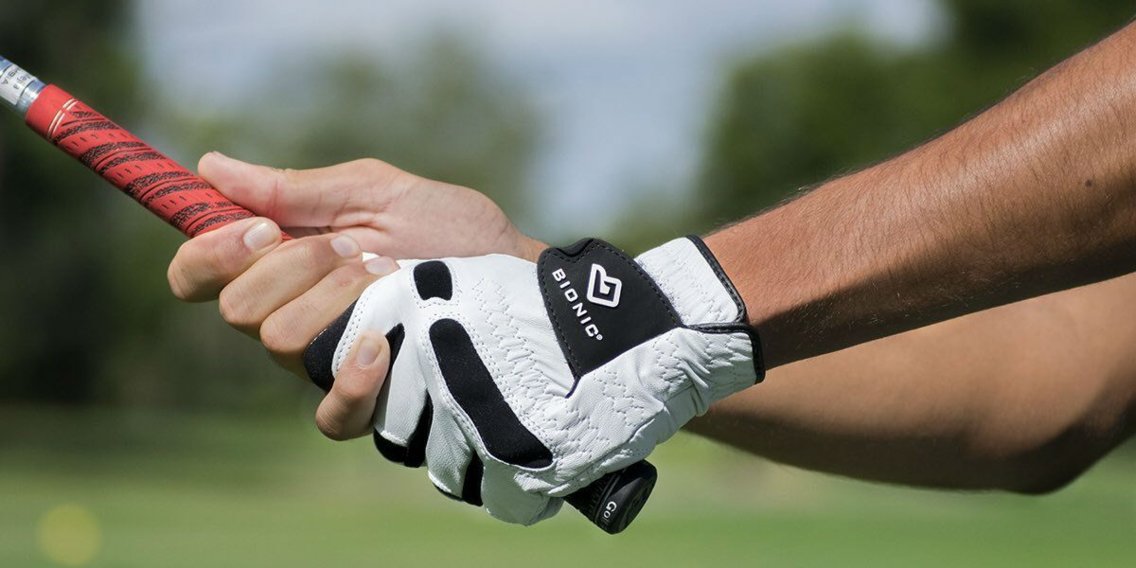 Article Name
Best Golf Gloves For 2020
Description
Reviews for the best golf gloves for 2020. Will will evaluate the best golf gloves for beginners, sweaty hands, cold weather, rain, arthritis, and blister prevention.
Author
Publisher Name
Publisher Logo